"LIVE and back again by popular demand. Not just a band, but entertainers! They play 60's through todays rock n roll, dressing up thoughout the night getting the most out of the audience participation! 4 PLAY is the best PARTY in Delco!!"
Restaurant
"I just wanted to send you guys a HUGE thank you for participating in our National Night Out event in Eddystone. Everyone was very entertained, both adults and kids had a good time. Thank so much."
---Eddystone Neighborhood
Watch
"Thank you so much for coming to Ocean City to play for my Dad's 80th Birthday Party, Everyone had a great time, you were amazing !!!"
- - - D. Brasslett
"Great job at the Ridley Park Fall Festival. 4 Play Rocks!"

--- Steve Kurtz

"This band is really fun and entertaining, bring your friends!"
- - - The REEF
They are awesome, Delco's #1 Party Band!!!!! HAPPY ANNIVERSARY GUYS....
--- Fred M Amatucci
"Thank you for a great night! you guys were awesome!"
- - - Linda Mullen
THIS BAND IS SO MUCH FUN.....THEY PARTY ALONG WITH THE CROWD!!
---Coatesville Moose



"Thank You to the best band EVER!!! I love you guys !!! Your music made the night even more SPECIAL !!!"
- - - Lynda Novelli Mariani
4 Play brings years of combined musical and entertainment experience to the stage to provide an evening of fun, good music, audience involvement and great entertainment. You never know what will happen at a 4 play show!
----The REEF!
To Larry and the Band, I want to Personally Thank You for one of the Best Nights ever! Most people do not want to go to an 80th Birthday Party, but you turned our Party into the most interactive and fun dance parties that I have been to in a long time. You included the adults, children and everyone into dancing, singing and enjoying the night. I could not have asked for more from a band. I would personally recommend your band to anyone who wants to make a great party even better. I can not THANK YOU enough.
---With Warmest Regards,
---Denise & Chris Savage
Good job on Sunday! Thank the guys for me and keep . . . (next year) . . . open for us. Thanks again!
---Mike (West Bradford Day coordinator)
"If Stevie had more songs to sing, you guys would be PERFECT!"
---Director of Homeland Scrutiny; Dean of the Harvard School of Nuclear Technomancy and Radiological Pedantry


Billy & Paj (and Kris & Loretta) were invited by ?estLove (whom we first met at age 5) to be backstage guests at the Philly 4th of July concert to renew old Lee Andrews & The Hearts acquaintances (Donn, Jaqui, and Karen & family) and to spend time with recent and new friends on the job. It was so good to see everybody and to see that they were all healthy, happy, and doing fine. The weather was fine and it was a great day of music and camaraderie. Thanks to everyone! We are truly blessed!

We shot a lot of pictures, which you can view here.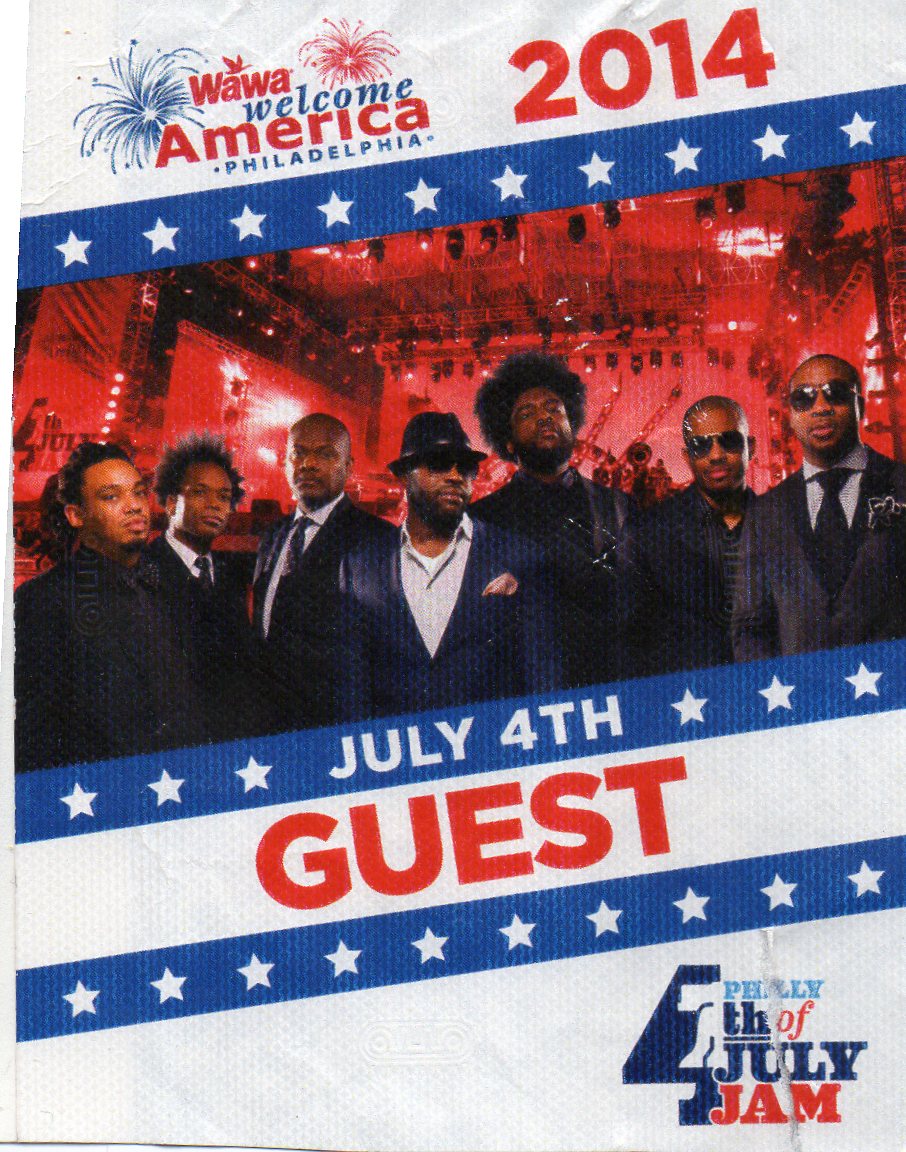 Thank you, Talk Of The Town: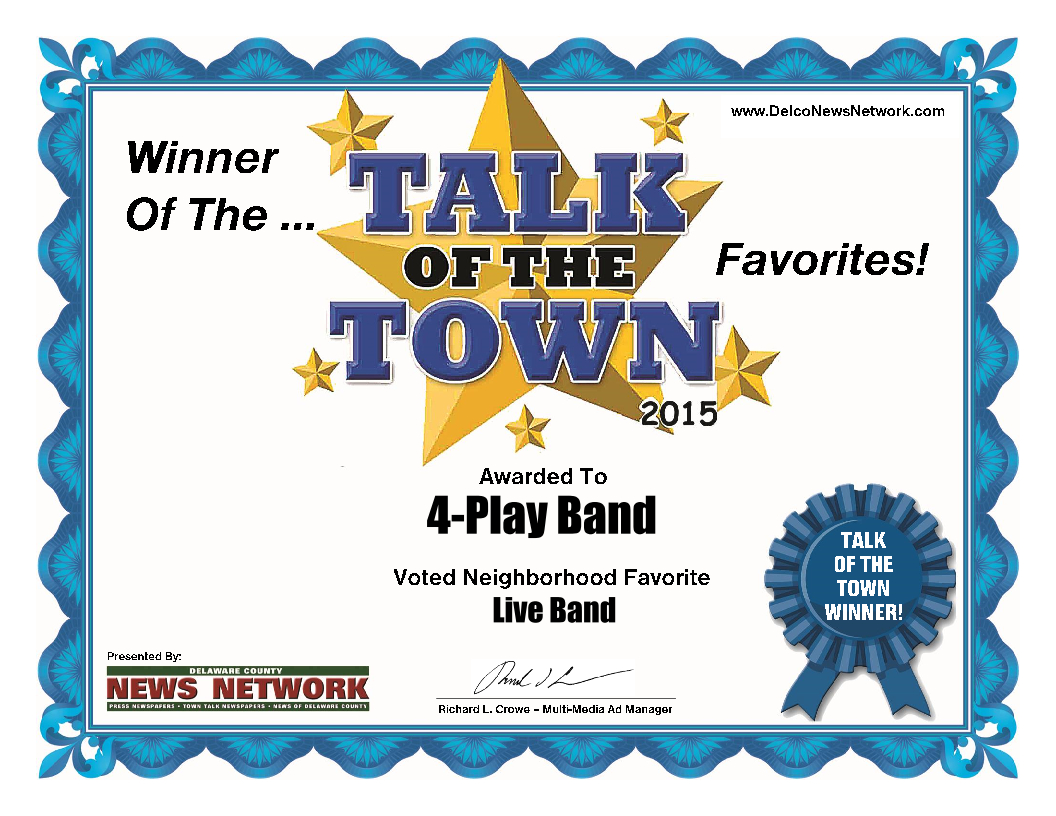 Thank you all very much for this. Having great fans and having fun with them is truly a gift that keeps on giving. We are blessed.

(To 4-Play Band):
We at Komen send our heartfelt appreciation for the support and generosity of the donation. We Thank you sincerely for choosing Komen Philadelphia for your fundraiser and hope we can partner for next year's Breast Cancer Awareness Month.
That donation will help pay for free screening and mammograms and treatment for uninsured and underinsured women who I know are thankful to your Band as well.
Through those screenings many lives have been saved and know that the 4-PLAY BAND has helped us to continue our mission in serving woman throughout the Tri-State area.

Best regards, Susan G. Komen Philadelphia
Bernadette White
125 South 9th Street, Suite 202
Outreach Education Coordinator Philadelphia, Pa. 19107


(The complete official Thank You Letter is the PDF file below)